Finding the perfect balance between satisfying your predilections and steering towards a healthy lifestyle can be challenging. It's so easy to reach for your phone and start scrolling through the deep social media rabbit hole. You might not even notice that you've been awake for an hour already. As tempting as this sounds, it's simply not a good way to spend your precious mornings. From the moment you open your eyes, the actions you do during the first few minutes set the tone for the rest of the day.
At one point, we've all searched for (and attempted to do) a productive morning routine. By now, you should already know that there's no singular foolproof list of morning habits that works for everyone. A productive morning routine that fits well with your lifestyle can be achieved purely through trial and error. It can be quite a tedious task but don't worry, we're here to walk you through a productive morning routine that can help you discover what works best for you.
1. Think of 3 Things You're Grateful For
Following a productive morning routine to a T requires the right state of mind. Instead of flooding your mind with thoughts of the work backlog you have yet to accomplish, fill your headspace with positive energy by greeting the day with gratitude.
Even with little introspection, you'll come to see that there are countless things to be thankful for each day. For waking up, for having a roof above your head, for having drinkable water—these seem like insignificant perks to many but more often than not, we just fail to see our privilege. By starting the day with this habit, you're more likely to be more receptive to optimism and less likely to complain over the tiniest inconveniences.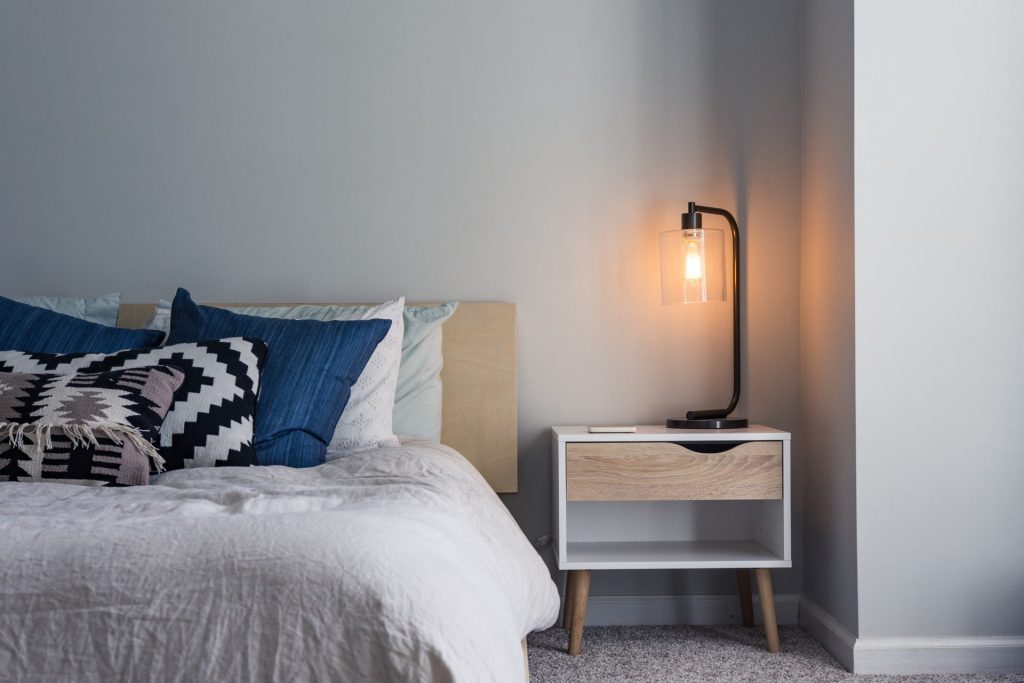 2. Make Your Bed
A productive morning routine should include accomplishing a small task first thing in the morning. As you may have guessed, there's no better way to get the ball rolling than to make your bed. Aside from having a tidy area, this habit instantly gears you up for further productivity later in the day.
3. Drink a Glass of Water
It goes without saying that drinking a glass of water has numerous health benefits for your body. More than flushing the toxins in your body, water strengthens your immune system by preventing bladder infections and kidney stones. It also boosts your alertness since the brain is dependent upon water reserves that enable you to think clearly and focus quickly.
Five to eight hours is too long for anybody to not have any water intake. To quickly rehydrate, 2-3 glasses should be enough to compensate for your lack of fluid consumption.
4. Stretch and Exercise
If you want to get better looking skin that's radiant and glowy, squeeze an exercise regimen into your productive morning routine. Studies also show that working out in the morning before breakfast is more efficient in losing fat when compared to workouts done later in the day. Aside from this, you'll also get to sleep better at night. Nevertheless, if you're not used to working out, you can ease the transition by beginning with low impact exercises first just to get your heart pumping.
5. Write in a Journal
Allocate a few minutes on your productive morning routine to doing something that fuels your creativity. If you want something that's quick, writing in a journal is the way to go. You can write about something as simple as what you're feeling at the moment or even your expectations for the day.
To get those creative juices flowing instantly, you can also look for a list of journal prompts if you're having a hard time thinking of a topic to write about. Even though writing in a physical journal is a joyful experience on its own, you can always opt to do it digitally by writing it in an online diary or blog.
Related: 30 Self-Care Prompts to Build Your Confidence
6. Brew a Fresh Cup of Coffee or Tea
There's just something about the smell of freshly brewed coffee that instantly puts people in a good mood. If you're the type of worker who can't operate until you've gotten your coffee fix, then this habit is for you.
Integrating caffeine into your productive morning routine not only increases your brain functions, but it also improves your overall mood as well. Nevertheless, you should probably hold back on that second cup of coffee since overconsumption can cause anxiety and poor sleep. Instead, take spaced sips on your coffee so it can last the entire morning.
7. Read the News
Read the news—and no, I don't mean the newest celebrity tea on Twitter. As much as you'd want to check out your fave celebs' Instagram stories, it doesn't really fit in the category of a productive morning routine.
Don't get us wrong, there's nothing wrong with relying on social media to stay updated with the current events; however, you should be able to discern the factual articles from the fake ones. It's easy to get wrapped up with a post that just aims to cause panic but you have to be a responsible reader. Make sure that you're reading from factual sites that are already known such as CNN, BBC, and The Wall Street Journal.
8. Tidy Your Space
To effectively implement a productive morning routine, you need to have a clean area to work later in the day. Waking up to a messy table can be such an eyesore and if you don't fix it now, you're more likely to steer away from working on your table. Obviously, you won't get anything done when that happens.
Tidying your space doesn't necessarily mean you should do a general cleaning. Placing back your pens in its proper canisters, straightening your books on your shelf, and collating all your papers from yesterday are more than enough to get you started. Fix all the other things in your space until you feel that the area's already conducive enough to work in again.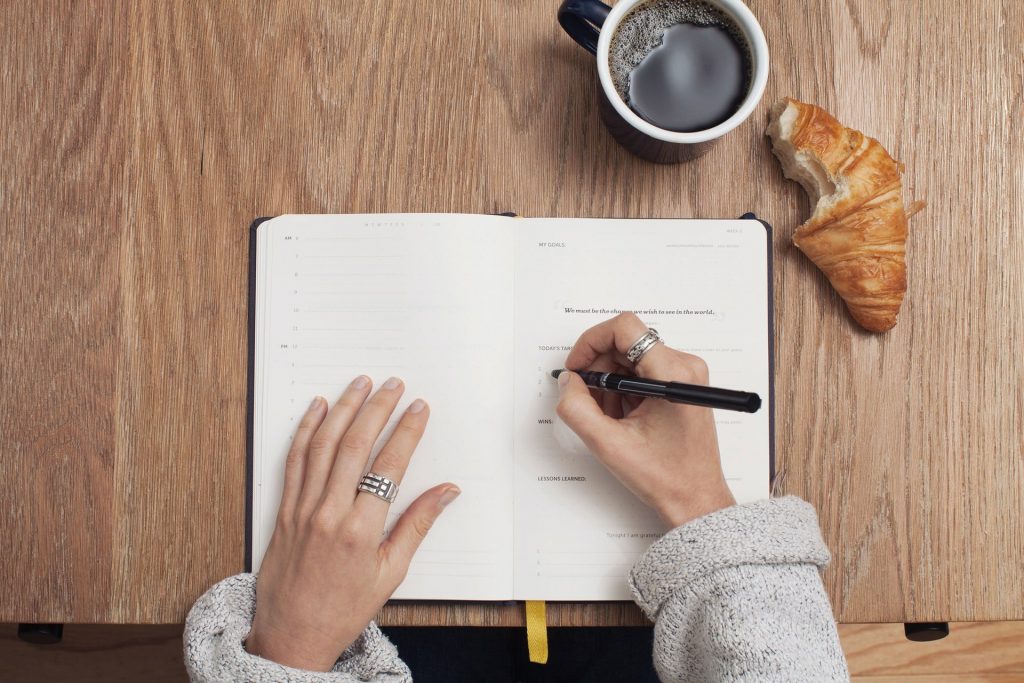 9. List Down 3 Non-Negotiable Tasks to Do Today
Organization and productivity go hand in hand. To really take advantage of your productive morning routine, list down three non-negotiable things you have to finish within the day. From there, you can add 2-3 optional activities you can do if you have extra time on your hands. This can include anything you enjoy doing such as watching an episode from your favorite sitcom, walking your dog, or even baking a new treat.
When you've already determined the tasks you have to get done for the day, it's easier to direct your actions to accomplishing them than second guessing what you should be doing next. You can do the list digitally on your phone if you want; however, the act of writing down your tasks and crossing them off manually can greatly increase your desire to finish them immediately.
10. Learn a Language on Duolingo
Nothing screams productivity more than putting those brain cells to work. Learning a language is one of the best ways to increase your memory, decision-making skills and overall cognitive abilities.
With mobile apps like Duolingo, you can easily learn the basics of that language you've always wanted to speak. You don't have to invest a lot of time in this because even with just 5 minutes, you can complete a quick lesson already. Using its "streak" feature that tracks the number of consecutive days you've used the app, you'll be more enticed to come back each day to save your day count.
Integrating this 5-minute task into your productive morning routine can work wonders especially when you reap its benefits in the long run.
Found this article helpful? Let others see it by pinning any of these images below!